Hi,
this is the release thread for ActivityWatchVS.
New versions (beta and stable) will always be available in the
VsixGallery.com ActivityWatchVS download page.
Stable version will also be deployed to the VS Marketplace and can be installed using "Extensions" Menu inside Visual Studio.
I also plan to deploy stable to the Visual Studio Marketplace (as soon beta is tested for a while). When available I'll post the link there.
Features
Installable from VS Marketplace.

Track file edits in Visual Studio

Cumulate events

Autostart ActivityWatch

No configuration necessary, but possible (using VS Options Dialog Page)
Track file edits in Visual Studio
This VS plugin tracks your edits in visual studio. When you start to work on another file or after some time we send these events to ActivityWatch, usually running on localhost:5600.
Autostart ActivityWatch
If we cannot send events we try to start the ActivityWatch process once. We search different locations. For this to work place the binaries inside an 'ActivityWatch' folder inside %AppData% or Program Files folder.
Configuration
Usually you don't need any configuration. We try to read the ActivityWatch config file, else use the ActivityWatch defaults. If you need to you can configure the URL to the ActivityWatch service or (temporarly) disable the event pump.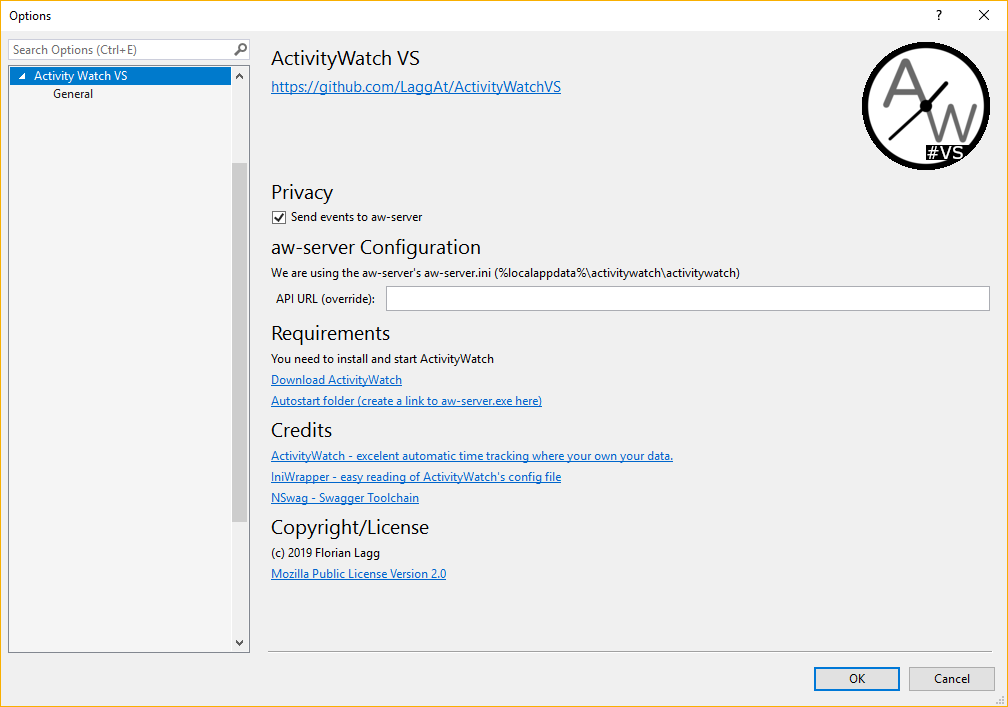 If you want some features or find some bugs report them at Github.